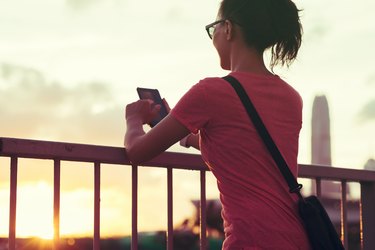 When you don't have time to write the date on the back of photos you have developed, it's useful to be able to print a photo with the date taken displayed right on the picture. Some digital cameras have a setting to automatically add a timestamp to photos. If yours doesn't, there are smartphone apps that insert a timestamp when a photo is snapped. To add dates to existing photos, you can use timestamp information within the image file itself to add the date and time to the photo using a graphics editor or a batch photo date and time editor.
Using Free Timestamp Software
Some digital cameras add an automatic timestamp to pictures, but this feature is less common with smartphone cameras. App developers for Apple, Google and Windows devices have recognized the demand for timestamped photos and provided apps that will add the date and time to your images as you take them. Many of these apps allow you to specify the color and font and may allow you to add additional text about the subject of the photo.
Finding an Image File Timestamp
If you want to add timestamps to existing image files, you don't have to depend on the date shown by File Explorer, which could reflect when the file was copied rather than when it was created. Digital photos stored in JPEG format contain more than an image. They also store information about image size, when and where the picture was taken and about the camera used to take it.
Exif data (for Exchange Image File Format) stays with the picture even if the JPEG file is moved to another computer or uploaded to the internet, though most social media sites like Facebook and Twitter hide the data from public view when you post the photo online.
On Windows, you can look at an image file's Exif data by pressing the right mouse button on the file and selecting Properties from the popup menu. Exif properties and values, including the file creation date, are displayed on the Details tab. On a Mac, open a photo in Preview and pick Show Inspector from the Tools menu. There will be an Exif tab displayed if the file has Exif data. If the image file is missing Exif data or has corrupt data, it won't be displayed.
Using a Photo Date and Time Editor
After you know the creation date for a photo, you can edit the image file in a graphics editor program like Paint and manually add a text timestamp. You can also change the size and color of the text and add additional information. This solution is fine if you only want to timestamp a few images, but it's a tedious process if you have many image files. Another solution is to use a software tool that operates in batches, going through a group of image files, reading the timestamp from each file and then modifying the image in the file to include the date and time.
BatchPhoto is a popular tool for automatically adding timestamps to photos in image file. It costs about $30 for a lifetime license. You can also find free tools that perform the same job online and in the app stores. One of the biggest benefits of adding a timestamp after the picture is taken is that you can modify copies of the original image files and still have versions without a timestamp on the image. When you have a camera that adds a timestamp to photos or use an app to add one, it will always be part of the image.