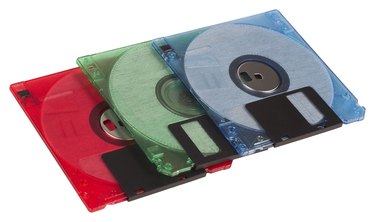 A file with a DSK file extension is a disk image file created with an older disk imaging tool. Usually, a DSK file is an image of a 3.5 inch floppy disk. A disk image application is required to extract files from a DSK file. WinImage is a Windows disk imaging application that creates DSK images and extracts files from a DSK image. The application is free and can be downloaded from the winimage.com website.
Step 1
Open the WinImage application.
Step 2
Click the "Image" option on the top navigation bar, and then click the "Select" option. A file navigation window launches.
Step 3
Navigate to and click on the DSK file. Click "Open." The DSK image opens in WinImage and the files in the image are displayed in the right pane of the application.
Step 4
Click the "Image" option and then click "Extract." A file navigation window opens. Click on the "Folder" icon and navigate to the folder where the files will be located after they are extracted.
Step 5
Click "Extract All." The files are extracted from the DSK image and saved to the specified location.