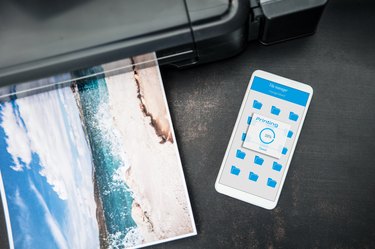 Many Walmart locations host photo-processing centers that can print digital photos on demand or through an ordering system. Standard prints are easy to order, and some stores have a kiosk for printing the 4-by-6-inch size instantly. Custom prints are an option, with collages, large formats and matted prints on the menu.
The easiest way to print digital photos at Walmart is through an online upload. You load the images to the Walmart website and choose between store pickup or home delivery. Before uploading your photos, you must download the Walmart photo app to your phone and create an account or create an account online.
After you set up the online account, select the photo loader and choose the photos you want to add to the order. The prices vary based on the number of photos ordered and the size and photo style. Bulk orders are discounted, and choosing the 1-hour photo option is significantly more expensive than home delivery or store pickup. Pay attention to the pricing structure before deciding where and how to receive your finished photos.
After you upload the photos to your order, go through each image to confirm the desired sizing and quantity. Move to the checkout phase to view the pricing. Then, enter your payment information and place the final order. Home delivery ships directly to you, but you choose the store for pickup. Choose the closest store based on your home location for convenient pickup.
Before attempting to print at a physical location, call ahead to ensure the store has a photo-processing center. Not all stores process photos, but a large number are equipped for onsite photo printing. There are several methods of printing photos at a physical store location, and each requires a variable amount of time.
The Walmart photo kiosk instant-print machines quickly turn digital photos into 4-by-6-inch prints. You can load a memory card from a camera or connect via a USB cable, depending on the machine style. Some stores have phased out instant-print machines, but they remain in many locations. If a print machine is not available, the photo processing center can print your digital photos.
To print in a store, use the mobile app to load the photos and send your order. Choose the 1-hour pickup or in-store pickup option, and visit the store when the order is finished and ready. You pay with the app and then simply pick up the photos and receipt and take the photo prints home.
Alternative Printing Options
Walmart is convenient for photo printing, and the stores are common, making it easy for in-store pickup. The stores offer custom prints, wallet-size and passport photos but have a limited set of options compared to other more robust printing services. Walgreens and a few other common retail locations also offer similar printing services with home delivery and pickup options.
If you want photos printed on large canvas, metal, apparel or mugs, an alternative service is necessary. Numerous professional printing services offer an extensive suite of product options. Costco produces canvas prints at a reasonable price point. Do some research and shop prices before committing to any single service. The loading process is often time-intensive; it can pay to find the best fit service before investing any time on the back end.