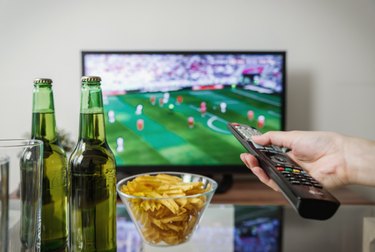 Hello, football fans. Hello to you too, commercial fans. Super Bowl LIV is this Sunday. The San Francisco 49ers will take on the Kansas City Chiefs, and the commercials will likely take on your emotions.
If you want to stay home and watch the game, but you don't have cable, an indoor antenna (the game is broadcast over the air, so you can buy a cheap antenna here, or a streaming service subscription, don't worry. There are free (and legal) ways to watch.
First, try to grab a friend's Fox Sports GO login. Since the Super Bowl will be airing on Fox, the network will stream the game on its own app—you'll just need a cable or satellite login to watch.
Several streaming services offer free trials you can sign up for if you haven't signed up previously. There's Hulu with Live TV, YouTube TV, Sling, and fuboTV. All of the trials last between five and seven days, but since the Super Bowl is only one day, you'll be golden.
Super Bowl LIV airs February 2nd at 3:30 p.m. PT/6:30 p.m. ET.