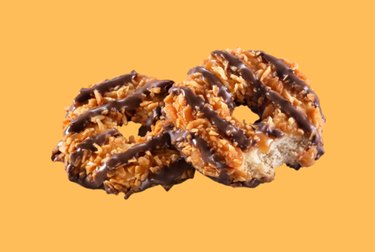 In order to keep Girl Scouts and their communities safe amid the COVID-19 pandemic, door-to-door sales of cookies have been suspended. Since 1.7 million girls throughout the U.S. rely on the sales of cookies to fund life-changing programs, this has been a big blow.
But there's good news on the cookie front—the cookies are now available to buy online, which is great for the girls and great for humanity in general.
To order your favs, visit the Girl Scouts website and enter your zip code. You'll be directed to the nearest council. Each council has its own sale season, so if your local council is already done selling for the season, you can choose the nearest spot to order from.
You can also choose to donate cookies, which will be distributed safely to first responders, volunteers, and local causes in need.
Here's a message from the Girl Scouts:
This is a weird time. We could all use a Thin Mint... or 32.