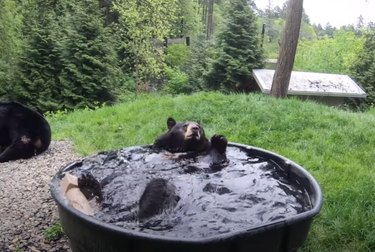 Life is weird and hard right now, but here's a thing that can help us forget about all the weirdness, even if just for a minute and 21 seconds.
A 400-pound rescue black bear named Takoda took a bath in a 300-gallon container of water at the Oregon Zoo, and his joy is contagious. It's exactly the kind of content the internet needs right now.
"What happened once Takoda hopped in and started splashing around is the kind of stuff the internet was made for, especially in times like these," staff at the zoo told KVAL news in Eugene, OR. "The warm weather is starting to come on, and Takoda loves splashing around in his tub. He's quite a goofy bear. He was just cooling down and having some fun on a nice spring day."
The staff recorded his bath and posted it on their YouTube page:
The Oregon Zoo is closed due to COVID-19, but you can donate to their nonprofit foundation to help support zoo operations during the closure. To contribute to the fund, go to oregonzoo.org/donate.