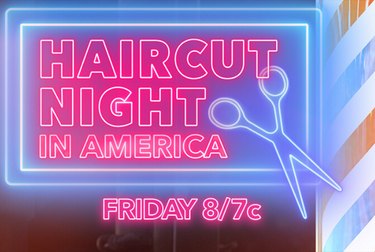 We're on month 137 of quarantine, or at least it feels that way, and at this point, we're all desperate for a haircut. Since most hair salons throughout the U.S. still aren't open, it's probably time we learn how to cut our own hair.
To help, Jerry O'Connell and Rebecca Romijn are hosting a DIY haircare special from their home, aka a cut-a-long. "Haircut Night in America" will air on CBS, and it'll feature top hairstylists who will teach frontline healthcare workers and celebrities, including Kelly Osbourne, Olympian Lindsey Vonn, and hockey player P.K. Subban, how cut, color, and style hair without succumbing to The Tragedy of Quarantine Hair 2020. (Not technically a thing, but it will be... just wait).

"With the majority of salons and barbershops still closed while America shelters in place, many increasingly hirsute people are missing their regularly scheduled salon appointments, and now more than ever need expert advice on how to rein in their unruly manes," according to a CBS blog post. "After nearly three months of social distancing, the time has come for people to take haircare into their own hands. In 'Haircut Night in America,' top stylists will expertly guide celebrities in a 'cut-a-long' from their homes and reveal the final looks, no matter the outcome."
The special will air Friday, May 29th at 8 p.m. ET/5 p.m. PT on CBS and CBS All Access.