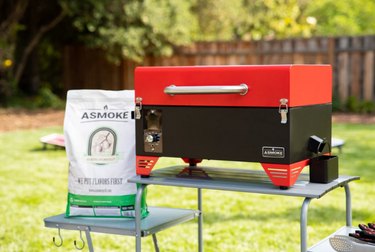 Even though barbecues are going to be different this summer as we continue to stay 6 to 10 feet apart from friends and family, grilling season has begun.
ASMOKE is a portable applewood pellet grill that just launched a crowdfunding campaign on Indiegogo. It's the first of its kind, so if you're a fan of grilling, it's worth checking out. Your tastebuds deserve it.
Using applewood pellets in the grill, you can BBQ, grill, smoke, bake, roast, braise, sear, and char-grill everything from meat to pizza to vegetables to baked goods.
According to the company, ASMOKE uses less pellets than other grills, it's easy to clean, and it heats up faster than other wood pellets. The natural applewood pellets are sourced from orchards, without adding any fillers, binding agents, chemicals, oils, or additives.
Preorder your ASMOKE here for $150, down from the retail price of $257. And a 20 pound bag of applewood pellets is $25, down from $47. The grills are scheduled to ship in July 2020.