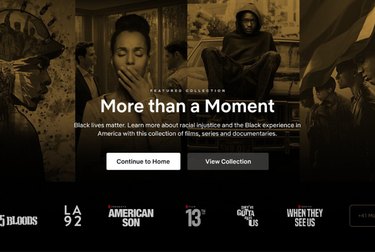 The next time you log into Netflix, you're going to see a new Black Lives Matter collection that includes a carefully curated list of movies, TV shows, and documentaries featuring stories about racial injustices and experiences of being Black in America.
More than 45 titles appear in the collection, and most of them were created and directed by Black filmmakers and writers. Titles include Ava DuVernay's 13th and When They See Us, American Son, Malcolm X, Mudbound, Dear White People, Homecoming: A Film By Beyoncé, Oscar-winner Moonlight, as well as popular shows Pose and Orange is the New Black.
"When we say 'Black Lives Matter,' we also mean 'Black storytelling matters,' Netflix wrote on Twitter to announce the new collection. "With an understanding that our commitment to true, systemic change will take time – we're starting by highlighting powerful and complex narratives about the Black experience."