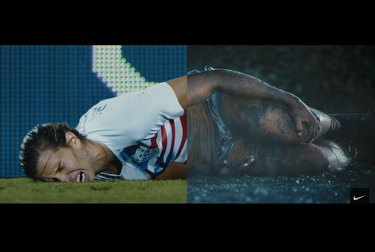 Nike's new ad is powerful, and it's going to hit you right in your feelings. The message in the commercial is an important one for everyone: Even during a global pandemic, greatness can't be stopped.
Sports seasons have been canceled due to the global pandemic—for kids, amateurs, professionals, and even the 2020 Olympic games. Nike's 90-second spot shows us that no matter what, we find a way to compete through adversity. It also shows the challenges athletes have to overcome—whether it's fighting for equal rights, recovering quickly from an injury, or figuring out how to deal with a global pandemic while continuing to train.
Aside from the powerful message of unity, the most impressive part of the ad is the editing. The footage is completely archival, featuring athletes across all sports, all walks of life, and all over the world. In a split-screen, footage from two different athletes are blended together, and it's completely seamless. The editors watched over 4,000 hours of sports videos to find the precise footage they needed.
Narrated by Megan Rapinoe, the "You Can't Stop Us," the ad features everyday athletes, as well as superstars, including Serena Williams, Naomi Osaka, LeBron James, Giannis Antetokounmpo, Colin Kaepernick, and Cristiano Ronaldo.