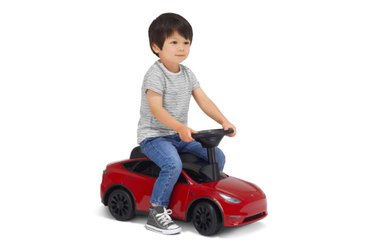 Tesla made a tiny version of its Tesla Model Y, so now your toddlers can ride in style while maintaining a low environmental impact.
In partnership with Radio Flyer, the Model Y car is designed for kids aged 18 months to four years. The grown up version of the car runs around $50,000, while the toy car is only $99.
Unlike the full size Model Y, which needs to be recharged every 300 miles, the mini version doesn't need to be charged at all. It runs on the pure power of toddler feet.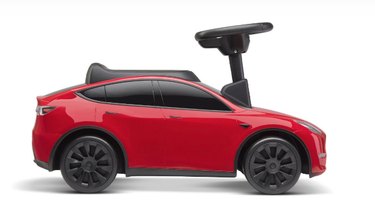 The steering wheel and horn are fully functioning, but instead of sitting inside the car, the toddler seat is on top. It's a pretty tiny car, so if your kids aged 3 to 8 want to ride their own Tesla, check out the Model S version, which starts at $500.
Model Y is currently available for pre-order at Amazon or RadioFlyer.com, with shipments starting September 11th.