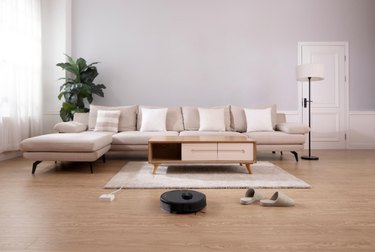 Let's be honest. Robot vacuums are expensive and not entirely necessary. But they sure do make life a little easier and your floors a lot cleaner.
The new S6 MaxV from Roborock is a smart vacuum and mop that will truly bring some peace of mind when it comes to germs and dirt on your floors. The vacuum is equipped with two cameras and reactiveAI tech, which ensures that the vacuum will automatically and intelligently avoid objects.
LiDAR navigation technology creates an accurate and updated map of your home to trace exactly where it has already cleaned so it actually cleans the whole house and not just one random corner. The cameras, along with the navigation technology, can see obstacles and determine their size and location to accurately go around them.
So, if there's something on the floor, like a child, pet, shoes, toys, cords, etc, the vacuum will go around them without even bumping into them. Even more specifically, if your dog poops on the floor, the vacuum won't run over it, spreading it everywhere. And according to the company, images are never duplicated, stored, or sent to the cloud. They're instantly deleted.
Voice and app controls can be used to set cleaning zones and schedules. Within the app, you can save up to four maps if your home has multiple levels, and create virtual No-Go and No-Mop Zones so the device will avoid certain areas. Here's the thing about the mopping though—the tank is only meant to hold water, not a cleaning solution.
Choose from five cleaning modes: Balanced, Gentle, Quiet, Turbo, and Max.
Roborock's S6 MaxV is a high end vacuum, so the price is pretty steep. You can buy it here for $750.