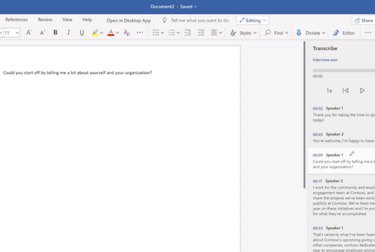 Microsoft is adding a new feature for its Microsoft 365 productivity suite designed to make the lives easier of anyone who needs to transcribe audio.
The feature is called Transcribe in Word, and it transcribes anything being said in the room with you—whether the conversation is happening in person or via apps like Zoom or FaceTime. To use, tap the Dictate button in the toolbar and select the Transcribe option. You can either record directly within the feature or upload previously recorded audio.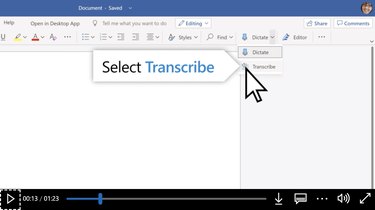 Once uploaded, the transcript will automatically upload, with breakdowns for each person speaking. So, if there's more than one person talking, each person will be labeled as Speaker 1, Speaker 2, etc. Since transcription doesn't get everything right, you'll be able to edit for accuracy.
For now, there are some stipulations. Transcribe in Word is only available in English and on the web, with smartphone access coming in the future. You can't wear headphones when using the feature, as it accesses your microphone and speakers to capture audio. The amount of audio you can upload is limited to 5 hours per month, with file sizes no larger than 200mb. There are no limits, however, on audio recorded directly in Microsoft.