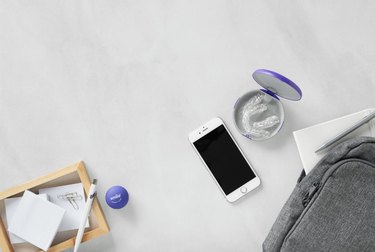 Retainers aren't cheap, but you probably already know that. So, replacing one after it has gone missing isn't an ideal situation, especially if it happens regularly. If your kid can't seem to stop misplacing their retainer, aka wrapping it in a paper towel and accidentally throwing it in the trash, you're going to want to check out this new device.
SmileDirectClub, the telehealth platform for teeth straightening, just released a trackable retainer/aligner case powered by Tile, the tiny Bluetooth tracker that finds your phone, keys, and anything else you need help keeping tabs on.
The compact case features built-in Bluetooth tracking to locate the case using the Tile app. Tile uses the location services of the device to communicate location information to the app. If the case is within 100 feet of your smartphone, the case will sound an alert—which can also be sent to another family member or friend's phone.
In case the phone goes missing, SmileDirectClub's Tile Case can also be used in reverse to find it using Tile. Click twice on the Tile logo on the back of the aligner case to initiate a tone to play on your mobile device, even if your phone is on silent.
No more tearing the house apart to find a missing retainer or digging through trash cans, unless of course the case is in the trash—in which case, you'll at least know exactly which trash can do dig through.