In honor of Black History Month, Apple is introducing a limited-edition Apple Watch. The watch is part of Apple's new Black Unity Collection, designed to acknowledge and celebrate Black history, Black culture, and the ongoing fight for racial justice.
Designed by members of the Black creative community, as well as allies throughout Apple, the collection includes a limited-edition Apple Watch Series 6, a Black Unity Sport Band, and a Unity watch face. Part of the proceeds will go to civil rights organizations, including Black Lives Matter Support Fund, the NAACP Legal Defense and Education Fund, and European Network Against Racism.
The Black Unity Sport Band has the words "Truth. Power. Solidarity." laser-engraved onto the inside of the fastening pin. Inspiration came from both the historic and current call to action to fight for racial equity.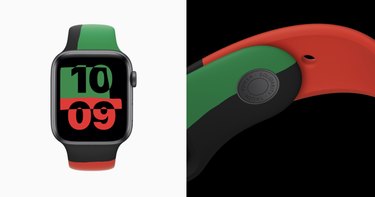 "The Black Unity Collection pays homage to the rich tradition and craft of quilting in the Black community and celebrates the colors of the Pan-African flag: red for the blood that unites people of the African Diaspora and was shed for their liberation, black for the people whose existence is affirmed by the flag, and green for the vibrant natural wealth of Africa, the Motherland," Apple explained in a blog post. "The Black Unity Sport Band is made from individual pieces of colored fluoroelastomer, which are assembled by hand and compression-molded into one. The Unity watch face creates an ever-changing pattern that dynamically shifts over time."
Apple Watch Series 6 Black Unity and the Black Unity Sport Band will be available for purchase beginning Feb. 1, and the Unity watch face is available as part of the watchOS 7.3 update available now.