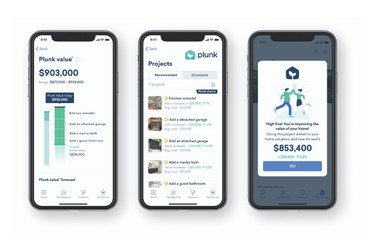 If you want to increase the value of your home, remodeling is usually a good way to do it. But without doing the research, it's hard to know exactly what to remodel and how much money to put into it.
Plunk is a new app that helps homeowners figure out which home renovation projects will yield the best returns. Using advanced artificial intelligence and machine learning, Plunk analyzes your home and makes specific recommendations to help you increase your home's value by taking on reno projects that make sense.
The app tells you the average cost of a project, like a kitchen remodel or adding a master bathroom, as well as the value increase. Then it combines all the suggested reno projects to give you an estimated range of how much the value of your home will increase with the remodel. It also shows you which projects would bring the most value to your home and how long it would take for the value to increase.
To get started, download the app. Once you sign up, you'll be asked to enter your address. From there, you can add details about your home, as well as photos, to get the most accurate home value and Plunk value. The app will walk you through exactly what you need to do, making the steps as easy and straight forward as possible.
Plunk launched today on iOS and will become available on Android as the app continues to rollout.