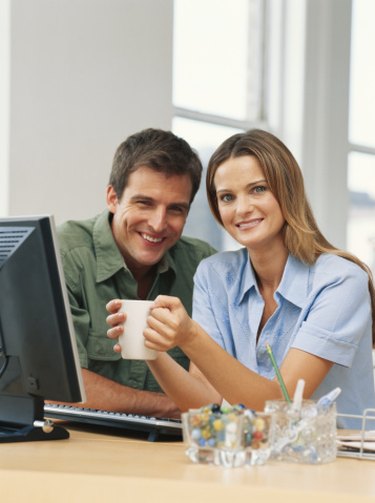 Computers make life easier for human beings in various ways. They allow people to reconnect with friends they haven't seen in decades and to watch television shows that they may have missed during the week. People are even able to complete a college degree or work from home solely depending on computers.
Communication
People can find old friends through social networking sites, or stay in touch with loved ones who live far away. In the classroom, teachers can use the Internet to connect students to those in other countries, creating Internet pen-pals. In the workplace, presentations are made with PowerPoint and other tools in order to effectively convey ideas to the rest of the office. Additionally, businesses can have virtual meetings with clients or other employees who are off-site.
Research
Organizing research, whether quantitative data in Microsoft Excel or qualitative notes and summaries in a word-processing program, is incredibly easy to create, but also to rearrange and edit when necessary. Furthermore, research databases are available through colleges and universities, so that registered members of the community can access journals from the past and present to learn more about a particular topic. In everyday life, people can search for and save recipes, workout plans or ideas for vacation.
Entertainment
Most computers come with games already built into them, and there are plenty of other CDs that you can purchase. Trivia, bowling and card games are just a few of the options. Once you connect to the Internet, you can play games live with other users. Furthermore, many individuals purchase their music from the Internet. Past episodes of shows, as well as some movies are available for viewing via the Internet as well.
Jobs and Education
Most recently, people have begun receiving an education and working online. Many accredited universities such as Kaplan, Phoenix and Everest University offer exclusively online programs. Traditional offline institutions have started offering certain courses online as well. People work from home in a variety of occupations. They might teach these college courses or work for elementary or high school virtual education programs. Others do freelance work or work for a company remotely from their homes.