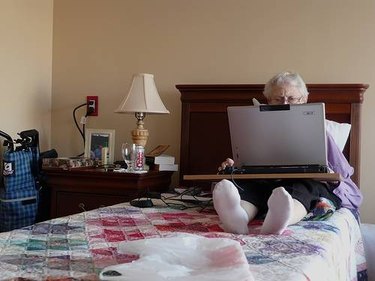 Home internet is convenient in that it provides immediate access to information; the ability to manage bank accounts and finances; communicate with coworkers, friends, and family; the ability to obtain or enhance education; the ability to find and purchase goods not locally available; and access to the most current news and weather information. Some Internet service providers (ISPs) have low-cost plans that allow even those on tight budgets to have Internet access at home.
Access to Information
Home internet service allows access to immediate and seemingly unlimited information from around the world, including library resources, original research and opinion, professional and amateur news reports, and instructions for making or repairing household items.
Banking/Finances & Bill Paying
Instant banking, managing stock portfolios, and bill paying can be performed in the luxury and convenience of one's home via the internet.
Communication with Distant Friends/Family
Long-distance telephone bills can be cut down by communicating with loved ones via e-mail, instant messaging, and chat rooms that can be accessed via home Internet service.
Education
Obtain certification or a college degree from accredited institutions by participating in online classes. Some areas offer online classes to help people prepare for GED (General Equivalency Diploma) testing.
Shopping and Selling
A home Internet connection allows for seemingly limitless shopping options, especially for people who are looking for good prices or hard-to-find items. People can also sell unwanted items via Internet websites, whether online auction sites such as ebay.com or via online classifieds such as craigslist.org.
News & Weather
Home Internet access gives people ready access to local, regional, national and global news, including from news outlets that cannot be accessed via newspapers, magazines, or TV locally. A home Internet connection also allows users to access up-to-date information about such things as stock and commodity prices, weather forecasts, health and safety alerts, traffic conditions, and the like.