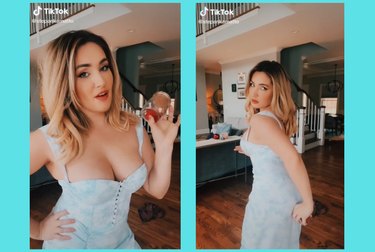 Known as a "fartrepreneur," reality TV and TikTok star Stephanie Matto sells her farts in jars — or at least she did until she wound up in the hospital due to her extremely high-fiber diet.
Matto gained a huge TikTok following after appearing on the reality TV show "90-Day Fiancé." She was selling her farts for $1,000 per jar and earned up to $250,000 a week, but due to "overdoing it" and causing serious health issues from eating so many high-fiber foods to produce more farts, she has decided to stop. In place of her jar farts, she's now selling her farts as non-fungible tokens, also known as NFTs.
After seeing a doctor for her pain, Matto was "advised to change my diet and to take a gas suppressant medication, which has effectively ended my business," Matto told UK's Jam Press.
Matto has launched a website where she sells cartoon images of her fart jars as NFTs for .05 ether, which works out to be about $191 at the current exchange rate — not including transaction fees.
If you're still hoping for a tangible fart — so to speak — Matto's website indicates that 100 of the virtual fart jar tokens will be redeemable for real-life fart jars, 70 tokens can be redeemed for used panties, and 30 tokens can be used for used lingerie.