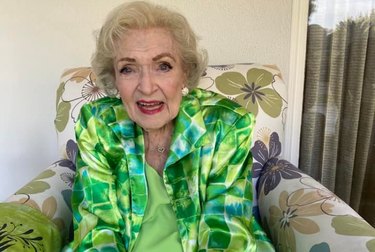 Even after her death, Betty White is still making people happy. White's assistant honored what would have been her 100th birthday on Monday by posting one of the final photos taken of the TV legend.
The photo was posted to White's official Facebook page and has garnered close to 100,000 likes. The comment section is full of fans expressing their love and admiration for White, as well as their grief.
"Hello Everyone! It's Kiersten. Betty's Assistant," Kiersten Mikelas wrote. "On this special day, I wanted to share this photo of Betty. It was taken on 12/20/21. I believe it's one of the last photos of her. She was radiant and beautiful and as happy as ever. Thanks to all of you who are doing kind things today and every day to make the world a better place.."
In the photo, White is seen sitting in a floral-print chair wearing a bright green outfit, makeup, and looking radiant as always. In a statement to PEOPLE, Mikelas explained the background of the photo.
"I just want to say that Betty was very excited about filming a special message to her fans for her 100th Birthday. It was important to her because she was so grateful that so many supported her throughout her entire career," she said. "The day we recorded the video and I took the photo, she was excited about being 'glammed up' (especially since COVID had basically eliminated any other opportunities. We laughed and joked and it was a great day. It was extremely important to her that her fans see her and hear from her and I'm so glad that the producers of the tribute were able to include the message."