Nothing beats throwing your camping gear in your vehicle and heading out for a weekend (or longer) of camping in the great outdoors. Camping is meant to be a time to relax and disconnect from the hustle and bustle of everyday life, but it can also be kind of a pain. There's also a lot to pack, a lot to unpack, then a lot to pack and unpack again when the trip is over — but that's inevitable. In addition, temporarily living outside means sacrificing a lot of amenities from home, but with the right gear, you don't have to sacrifice everything.
To help make your camping trips easier, more comfortable, and way more stylish, we rounded up some of our favorite camping gear that's perfect for any season. Scroll on for the list.
1. Third Eye Headlamps Headlamp
Take your headlamp to the next level with one from Third Eye Headlamps. The straps come in several super cool and unique styles designed by artists, so you're sure to find one that fits your personality and your head, as each headlamp strap is adjustable to fit both kids and grown ups. It has six brightness settings, it's waterproof, and it runs on batteries. Something especially cool about the headlamps is that for each purchase, the company donates to organizations "working to make the world a better place."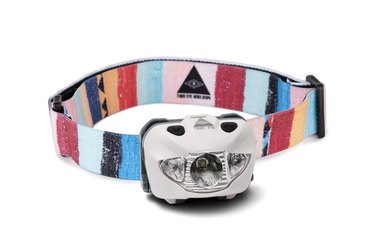 2. GoSun Electric Iceless Cooler
While camping, it's essential to have a cooler that actually stays cool so your food doesn't go bad. Not to mention, who wants to drink a warm beverage? GoSun's Solar Electric Cooler will keep everything cool for your entire trip. The cooler can be powered using multiple sources, including a power bank, AC adapter, 12 volt card, solar table, or flexible solar panels (sold separately but so worth it). It also has tons of space since ice doesn't take up half the cooler's volume.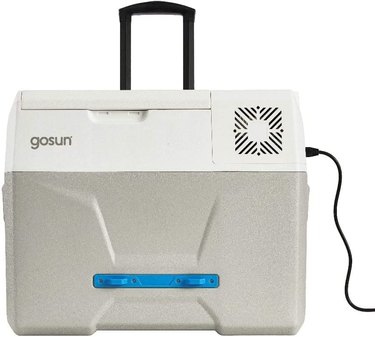 3. Bluetti Portable Power Station
Even though you might be disconnected from your phone and computer while camping, it's still nice to have power. This small but mighty power station from Bluetti has a 600W AC inverter, 268Wh LiFePO4 battery pack, and nine outlets. It can blow up an air mattress while simultaneously charging portable speakers, a phone, or whatever else. It works with solar panels, allowing you to use the power of the sun for even more power. Amazon is currently offering a $60 coupon.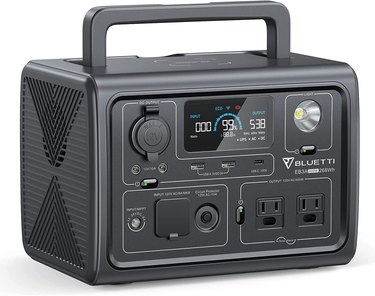 When you're camping, you need to be able to slip your shoes on and off easily. There's no better way to do that than with a sturdy and extra cozy pair of camping slippers. These lightweight, eco-conscious, indoor/outdoor slippers are made of water-repellent ripstop fabric with ultra-soft fleece inner lining on a durable outer sole that can be worn on any terrain. They come in five color options and four sizes: small, medium, large, and extra large.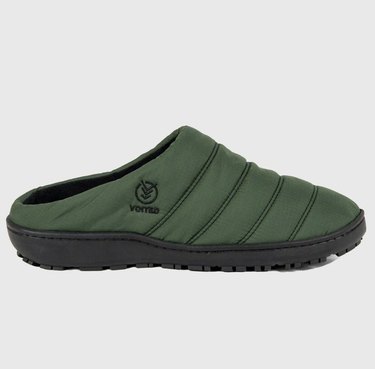 5. Voited Recycled Ripstop Travel Blanket
Sure, you can bring along any blanket from home to keep warm while camping, but not all blankets are ideal for the outdoors as many collect dirt and simply aren't warm enough. This Recycled Ripstop Travel Blanket from Voited has everything you could need or want in a camping blanket. It's the perfect size to wrap up in while sitting by the fire, as well as for draping over your bed at night for some added warmth. It has a hood, can snap into a cape for hands-free wearing, it has internet pockets to hold valuables, and it packs down into a compression pack for easy travel.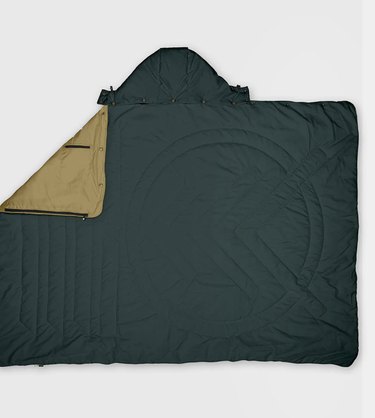 6. High Camp Flasks Tumblers
Whiskey is arguably the best part of camping. If whiskey is your thing, you're going to need two tumblers that are equal parts fancy, functional, and portable. Of course, these tumblers can be used for any beverages — alcohol or alcohol-free. They are made from premium grade stainless steel with a smooth interior, and they come with a soft wool-felt carrying case. The only requirement is that you kick your legs up and sit back and relax while you sip. (Or you can play corn hole or chop wood, whatever you feel like doing. It's your trip.)
7. Heat Hog Portable Propane Heater
If you plan on camping in the fall, winter, or even early spring, you're probably going to need a portable heater. This propane powered Heat Hog Portable Heater will heat up your tent or camper so you don't freeze your ninnies off. It can cover up to 225 square feet with up to 9,000 BTUs of radiant heat output. It features a tilted design so you can adjust the heat angle and a dock to keep your fuel warm.