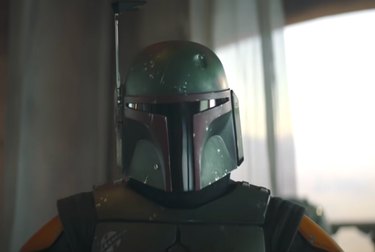 Star Wars Day is Wednesday, May the 4th (be with you), and what better way to celebrate than to binge all the Star Wars movies, TV shows, documentaries, and cartoons Disney+ has to offer.
Whether you're new to Star Wars or you're an obsessed fan (like most), there's something for everyone. From every single one of the main movies to spinoffs like ​The Mandalorian​ and ​The Book of Boba Fett​ to behind the scenes content to animated shows, it can be all Star Wars all day long if you want it to be.
The only new Star Wars content arriving on May 4th is ​Disney Gallery: The Book of Boba Fett​, a behind the scenes look at the groundbreaking technology and effects used to create the show, told by the filmmakers, cast, and crew.
Below you'll find all the available Star Wars content on Disney+, but if you can't get it all in on the 4th (you can't... there aren't enough hours in the day), don't worry — every day is Star Wars day on Disney+.
Star Wars: A New Hope (1977)
Star Wars: The Empire Strikes Back (1980)
Star Wars: The Return of the Jedi (1983)
Star Wars: The Phantom Menace (1999)
Star Wars: Attack of the Clones (2002)
Star Wars: Revenge of the Sith (2005)
Star Wars: The Clone Wars (2008)
Star Wars: The Force Awakens (2015)
Star Wars: The Last Jedi (2017)
Star Wars: The Rise of Skywalker (2019)
Rogue One: A Star Wars Story (2016)
Solo: A Star Wars Story (2018)
The Mandalorian Series 1 and 2
Disney Gallery: The Mandalorian
The Book of Boba Fett
Disney Gallery: The Book of Boba Fett
Under the Helmet - the Legacy of Boba Fett
Star Wars: The Bad Batch
Empire of Dreams: The Story of the Star Wars Trilogy
Star Wars: Vehicle Flythroughs
Star Wars: Biomes
Star Wars: Galaxy of Sounds
Clips and deleted scenes for each movie
Star Wars: The Bad Batch
Star Wars: Blips
Star Wars: The Clone Wars
Star Wars Forces of Destiny
Star Wars Rebels
Star Wars Rebels Shorts
Star Wars Resistance
LEGO Star Wars: The New Yoda Chronicles - Clash of the Skywalkers
LEGO Star Wars: The New Yoda Chronicles - Duel of the Skywalkers
LEGO Star Wars: The New Yoda Chronicles - Escape from the Jedi Temple
LEGO Star Wars: The New Yoda Chronicles - Race for the Holocrons
LEGO Star Wars: The New Yoda Chronicles - Raid on Coruscant
LEGO Star Wars: Droid Tales
LEGO Star Wars: The Freemaker Adventures
LEGO Star Wars: The Freemaker Adventures Shorts
LEGO Star Wars: All-Stars
LEGO Star Wars: All-Stars Shorts
LEGO Star Wars: The Resistance Rises