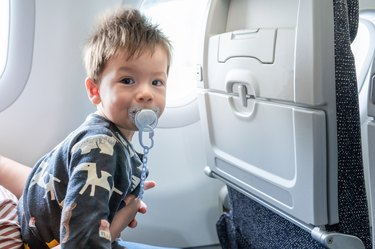 Traveling with little ones is no joke. Not only do you have a baby on board with a nap schedule, feeding schedule, poop schedule, etc., but you also have to pack practically every baby item you own to make the trip possible. Travel gear for babies is designed to make your on the go life easier... and lighter.
We rounded up some great travel gear for families with babies and toddlers, from the perfect diaper bag to a portable wagon to a lightweight pack 'n play to a travel bottle warmer. Scroll on to check out the list.
There's good and bad news about the Joey Wagon. The good news is it folds and is self-standing for compact storage when you're done using it. It can hold two kids up to age 4 or up to 55 pounds, it has a cup and snack holder that sits in between the two kids, and it has a UPF 50+ canopy. It fits in most trunks and can be gate checked at the airport. The bad news? It's expensive, but the good wagons always are.n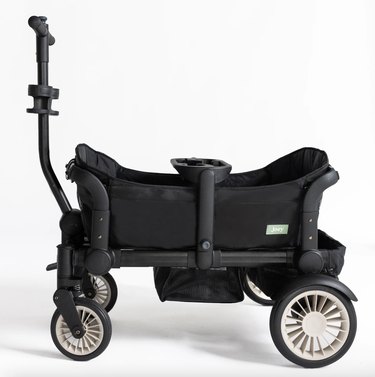 Wonderfold W4 Luxe Quad Stroller Wagon
If you're traveling by car and have room for a pretty big wagon, the collapsible Wonderfold is fantastic hybrid of a wagon and a stroller. It's ideal for amusement park visits, site-seeing, and long walks. It can hold up to four passengers and has seatbelts for all of them. It comes with a removable canopy and plenty of storage pockets and compartments. A front zipper door makes it easy for kids to get in and out so you don't have to lift them overtop each time. The only downside is that th wagon is on the heavy side, so with four kids inside, it might be too heavy to push for a long period of time. The wagon comes in six color options.
No Reception Club The Getaway Bag
The Getaway Bag from No Reception Club is designed for parents who travel with kids and need a diaper bag that can carry way more than just diapers. The various pockets allow you to access what you need — often one-handed — and they feature dividers to keep everything remarkably organized. The bag has a Mary Poppins vibe, where you can just keep pulling things out of different compartments. It comes with a spill-proof and insulated lunch bag, two detachable stroller clips, and two customizable shelves. The travel bundle comes with a sidekick bag and a changing pad.
Chicco Alfa Lite Travel Playpen
Playpens can be heavy and big to travel with, but they're necessary — especially if it's the spot your baby or toddler will be sleeping. Chicco's Alfa Lite Travel Playpen is different — it's actually lightweight and not a pain to travel with. It has a lightweight frame, a snap-open set up, and it folds compactly into a zippered carry bag. The mattress cover and frame fabrics are removable and machine washable.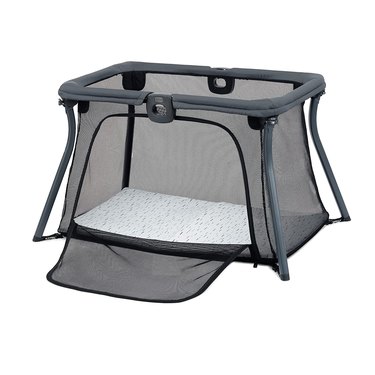 Tommee Tippee Portable Bottle Warmer
When you're traveling with a baby who takes a bottle, a good travel bottle warmer is imperative. Tommee Tippee's Portable Bottle Warmer consists of a thermal flask that securely holds hot water for warming a bottle in the car or on the go. Its compact design fits into most diaper bags, and the warmer fits standard-sized bottles.
Bēbee Lightweight Stroller
If you're looking for a sturdy stroller to replace your umbrella stroller, this is the one. Bēbee's Lightweight Stroller offers the comfort of a full size frame with the convenience of a compact stroller. The stroller uses one hand fold an unfold technology, and it has full recline capabilities, storage pockets, a cup holder, a travel bag, and premium vegan leather details. There are six color options: black, stone gray, sand, glacier blue, evergreen, and terracotta. And as an eco-friendly bonus, the company uses fabric made from at least 50% recycled plastic bottles.