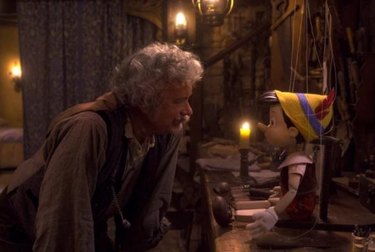 Pinocchio is finally going to be a real boy — or at least a CGI boy. The live-action remake of ​Pinocchio​ is coming to Disney+ in the fall, and the teaser trailer was released this week.
From what we can see in the trailer, the retelling seems to capture the magic and the old-timey look of the classic animated film. In fact, even though Pinocchio and other characters are CGI creations, along with a blend of human characters, it's almost as if they were taken directly out of the 1940 version and placed directly into the remake with an added dimension.
Tom Hanks stars in the film as Gepetto, Benjamin Evan Ainsworth plays Pinocchio, Cynthia Erivo is the Blue Fairy who gives life to Pinocchio, and Joseph Gordon-Levitt is the voice of Jiminy Cricket.
Check out the teaser trailer below:
​Pinocchio​ will premiere on Disney+ on September 8, which also happens to be Disney+ day. The streamer will soon announce more premieres happening that day from Disney, Pixar, Marvel, Star Wars, and National Geographic.