It's already September, which means it's basically Halloween season. Now's the time to get your Halloween decorations in order to start decorating your home, and that includes a Halloween doormat.
Of course, like most things on the internet, there are practically endless doormats to choose from. So, to make things easier for you, we rounded up Amazon's best Halloween-themed doormats that'll add some spook to your decor year after year.
Scroll on to see the best Halloween doormats of 2022.
1. Joyin Halloween Boo Doormat
Welcome your guests with a friendly "Boo!" This doormat is made of natural coconut coir fiber and works well with any Halloween decor.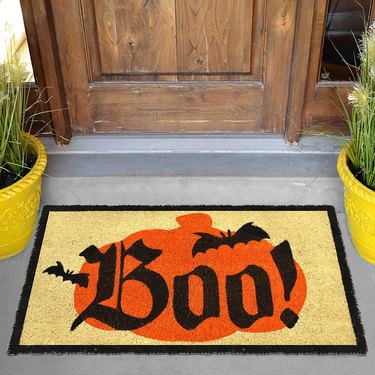 2. Calloway Mills Halloween Ghost Doormat
Every time someone comes into your home, they'll step on this adorable ghost face. Made of vinyl and coir, this doormat is weatherproof and ready for October.
3. Artoid Mode Trick or Treat Doormat
Welcome the neighborhood kids on Oct. 31 with this sweet doormat. Made of polyester with a rubber backing, this doormat won't slip and slide around when trick-or-treaters come to collect their candy.
​Dimensions:​ 29" x 17", 49" x 17"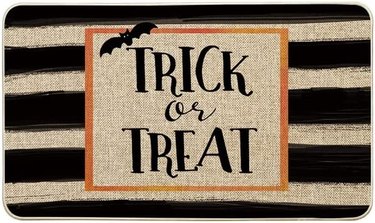 4. Roszwtit I Hope You Brought Boos Doormat
It's always a good idea to display a doormat with a cute play on words. This "I hope you brought boos" doormat has a low profile to easily fit under doors, and non-slip rubber backing prevents the mat from slipping.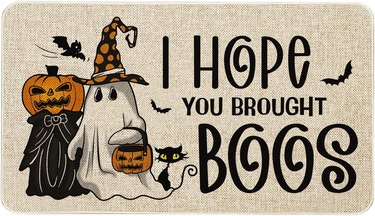 5. Roszwtit Halloween Welcome Mat
Allow skeleton hands to welcome all your guests in the month of October (and maybe September, depending on your Halloween commitment level). Made of high quality linen with a rubber backing, this doormat is easy to clean by vacuuming, sweeping, shaking, or spraying with a hose.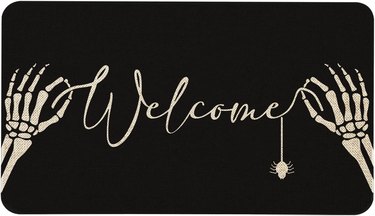 6. Caromio Spider Web Doormat
Check out this indoor/outdoor spider web-shaped doormat that'll nicely compliment the rest of your Halloween decorations. It's made of polyester and has a non-slip backing.
7. Zqh I Smell Children Indoor Doormat
The Sanderson sisters are still smelling children, even from the inside of your house. This indoor doormat is soft on the feet and has a rubber backing to prevent slippage.
​Dimensions:​ 23.7" x 15.9"