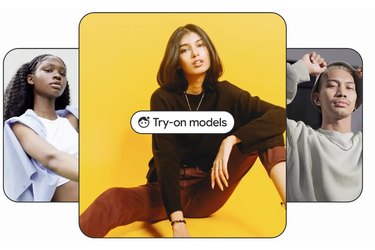 Google is introducing a new shopping feature that allows users to search for clothes in more detail with better visualization on how items would look on different body types.
Starting today in the U.S., Google Shopping users can see how women's tops from Anthropologie, H&M, Everlane, and Loft will look on real human models with a wide range of body types — the goal being to make it easier to shop online and find clothes that actually fit, potentially reducing the number of returns.
The virtual try-on experience gives users the opportunity to see how clothes fit on models with various body shapes, ethnicities, skin tones, and hair types. Sizes range from XXS to 4XL, and users can tap on products with a "Try On" badge on Search and choose the model resonates with them.
The models used aren't AI-generated, but AI is used to shape the clothing around the models so it looks realistic, like how a shirt would naturally wrinkle, fold, or drape over a human body.
In a blog post, Google says that 59 percent of online shoppers are unhappy with purchases because they expect an item of clothing to look different on their bodies, while 42 percent of people don't feel represented by online clothing models.
For now, only women's tops from Anthropologie, H&M, Everlane, and Loft are available for the virtual try-on experience, while men's tops and other apparel will be added to the feature later this year.