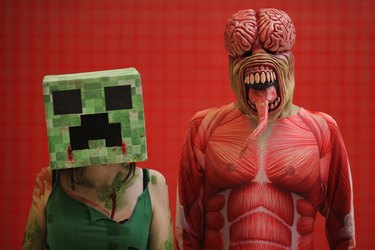 "Minecraft" creates a world where you can build almost anything you can image -- but unfortunately that doesn't include much in the way of a wardrobe. As the game's popularity has soared and multiplayer servers started cropping up, users began developing their own way to change the appearance of your character, called changing its "skin." Adding skins is now available for all "Minecraft" versions, including "Minecraft Pocket Edition" for the Kindle Fire HD.
Skin Sites
Adding skins to "Minecraft PE" involves two steps. First you create or download the skin; second you apply it. Most apps that let you apply skins don't have a skin creator. To make skins or download popular skins, you'll need to head to a free skin website like Nova Skin, Minecraft Skins or The Skindex (links in Resources) where you can browse or modify popular skins and download them directly to your Kindle Fire HD. Search for the term "PE" at each of these sites to make sure you get a skin that works on your "Minecraft PE" game.
BlockLauncher Pro
BlockLauncher Pro is an application for "Minecraft PE" that allows you to download different textures and patches to change the look and feel of your "Minecraft" game. BlockLauncher Pro can be downloaded through Google Play and costs $2.17 as of August 2013. Simply download the app, download skins from your preferred skin site to your device and then use the app's Options setting to select the character skin you would like to use.
PocketTool
PocketTool is a free app that will let you install skins for characters, blocks and the rest of the "Minecraft PE" world. However, the app relies on skins that you have already downloaded onto your device from another source as described earlier. To use PocketTool, simply open the app and press the "Install Downloaded Content" button. From here, select the skin you want to use. After pressing "Install," navigate back to the app's main tool kit and press the button that says "Change Texture/Scan." Tap on the skin you'd like to use and select the option to "Use" it and then apply your changes. The new skin will then be applied to your "Minecraft" game.
Jelly Bean Warnings
Many of the skin apps and websites will provide warnings that they do not support Android Jelly Bean, the versions of Android OS labeled 4.1, 4.2 and 4.3, and at first this might seem worrisome. However, you don't have to worry: the Kindle Fire HD is based on an older version of Android called Ice Cream Sandwich, but Amazon added its own code and functions, called a "fork," so the device won't be upgraded to newer versions of Android put out by Google. You can safely enjoy these apps on your Kindle Fire HD.