Windows Media Player is one of the most widely used media players in the digital world. It comes free with the Windows operating system and it's easy to use. The media player classic offers several customization options--including its looks. "Skins" can change the visual experience you have with your media player. You can change the skin to suit your interests. By default, the player comes with a selection of skins, depending on which version you have. You can also download more from Microsoft.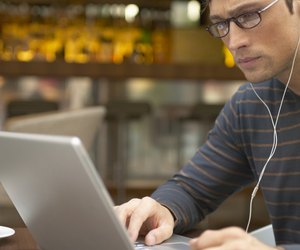 credit: Jochen Sand/Photodisc/Getty Images
Step
Launch Windows Media Player classic.
Step
Click "View" and select "Skin Chooser." If you are using a new version of the media player and cannot find the "classic menus," right-click anywhere on the media player and choose "Show Classic Menus" to launch the menu bar.
Step
Locate the skin themes on the left panel and click on each of them for a preview.
Step
Hit "Apply Skin" once you find a skin you like.
Step
Hit the "More Skins" button if you want to download additional media player skins. Make sure you know the version of your media player before you download any additional skins from the Microsoft website.