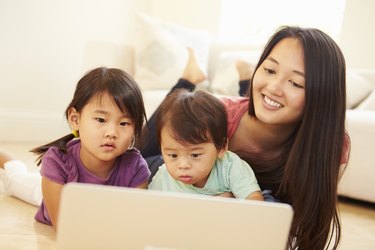 The Google Chrome browser requires a plugin to view streaming movies from Netflix. The latest version of Google Chrome uses the Widevine Content Decryption Module plugin. Chromebook and Chromecast devices require their own apps. If you visit Netflix and attempt to play a movie without the correct plugin or app, you will see an error message. Verify that you have the app or the plugin, and make sure it is enabled.
Where Do I Find Chrome Plugins?
To find Chrome plugins, type "chrome://plugins/" in the Chrome address bar and press Enter. Each plugin has a check box labeled "Always allowed to run" and a link that reads "Enable" or "Disable." If the plugin is enabled, the link displays "Disable," and if disabled, the link displays "Enable." Make sure the Widevine Content Decryption Module is listed and enabled. Chrome will always run this plugin, so the check box does not matter.
If the plugin is missing, download it from the Widevine Media Optimizer page at Google Tools. To install the plugin, double-click the file WidevineMediaOptimizerChrome.exe and follow the instructions. Depending on your Windows security settings, you may need to authorize the application to complete the installation.
How Do I Use The Netflix App?
The Netflix app is free and can be installed on a Chromebook or Chrome browser. It is available at the Chrome Web Store. Visit the Chrome Web Store with a Chrome browser and search for "Netflix." Select the Netflix app from the list. Click "Add to Chrome," and the app will be installed with other Chrome apps. Clicking the app takes you directly to Netflix.
How Can I View Netflix On Chromecast?
Make sure the Chromecast device and Netflix are on the same Wi-Fi network, and then use Google Chrome to visit Netflix and log on to your Netflix account. The "Cast" icon appears in the upper- or lower-right corner of the Chrome browser. Click the "Cast" icon and select your Chromecast device from the list. The Netflix application will launch on your television, and you can select the streaming content of your choice.
How Can I View Netflix On A Chromebook?
If you can't view Netflix on your Chromebook, check for the latest operating system updates. Click the Chrome menu icon (the three-horizontal-lines icon in the upper right corner), click "Settings," and then "Help," or type "chrome://chrome" in the address bar and press Enter. After making sure your OS is up to date, log on to your Netflix account. Grant permission to Chromebook when it asks to store Netflix account information, and enjoy your streaming media selections.