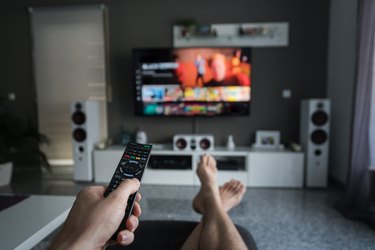 As smart TVs become increasingly common, it's easier than ever before to access streaming services such as Hulu and Hulu Plus. Hulu's native TV apps run on a range of models from major brands, including Samsung, LG and Vizio. Not all models support the apps, though. As of late 2019, only Vizio's SmartCast models support Hulu Plus.
Vizio Hulu App Update
Your TV treats the built-in Google Chromecast hardware as if it is a separate device, like a Blu-ray player or a Roku, so to install apps onto your SmartCast TV, press the input button on your remote and choose the SmartCast option. Alternatively, press the V key that's located in the middle of the remote. All the currently available apps show in the apps row on your home screen.
Scroll to the icon for the Hulu Plus app and select it. After a few moments, the installation is complete, and the new version of the app shows up in your dock. When you select it, you are prompted to sign in with your existing account if you have one. Otherwise, you need to create a new account and then log in using your new credentials.
Hulu on Older Vizio TVs
If Hulu wouldn't work on your Vizio smart TV in 2018, it's because that's when Hulu ended support for the older version of its app. If your smart TV is one of the older Vizio Internet App or VIA models, you can now install an updated version of the classic Hulu app on it. Regrettably, you won't be able to access Hulu Plus with its live TV option and other premium features. However, it gives you back your regular Hulu streaming library.
Vizio uses Yahoo to host its apps for these older sets. To perform a Yahoo Connected TV Store Update, press the V button on your remote. Scroll to the Hulu app and select it. If it shows you an Update button, choose it, and the app updates on its own.

If not, it shows a Delete App option. Do that and then use your remote's navigation keys to go back to the App store. Select the Hulu app and press OK to install the up-to-date version.
Using Hulu Plus With an External Device
If you have a Hulu Plus account and want to watch it on an older VIA-series Vizio smart TV, your other option is to attach a device that does support the Hulu Plus app. You can find a list of these on the Hulu support site, but they're the usual suspects, so you can guess most of them without looking. You can cast from Android or iOS mobile devices, and your options for a full-time connected device include computers, gaming consoles, and a variety of stand-alone devices such as Roku, Fire Stick, Apple TV and Google's Chromecast.
Using one is the same as using any other external device. Connect it to your Vizio TV via one of the available inputs – usually an HDMI port – and then use the input button on your remote to select it. As long as the device itself has internet access, you can reach your Hulu account and watch live TV or other Hulu content.