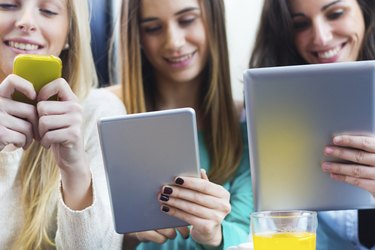 Android widgets that you don't use anymore can clutter your Home screen panels like candidate yard signs the day after an election. Fortunately, Android widgets aren't permanent or set in stone. You can remove widgets from view on your Home screen or eliminate them from your system entirely by uninstalling the app it belongs to.
Remove Widget From Home Screen
Step 1
Tap "Home" and then navigate to the Home screen panel holding the widget you want to remove.
Step 2
Long press the widget until the "Remove" notification appears.
Step 3
Drag the widget towards the top of the screen until it turns red and then release it. With some earlier versions of Android, you may need to drag the widget towards the bottom of the Home screen instead. Even though you have removed the widget from view, the app itself is still running on your Android device.
Uninstall Widget Apps Using Settings
Step 1
Launch "Settings" and then tap "Apps."
Step 2
Tap the name of the app the widget belongs to. For example, a weather widget may be generated by an app from Yahoo, the Weather Channel or WeatherBug.
Step 3
Tap "Uninstall" and "OK" to remove the app.
Uninstall Widget Apps Using Play Store
Step 1
Launch Play Store, tap the "Menu" button and then "My apps."
Step 2
Scroll through the list of installed apps and locate the one you want to remove.
Step 3
Tap the app's icon, "Uninstall" and then "OK" to remove the app.
Warning
Information in this article applies to Android Jelly Bean and KitKat. It may vary slightly or significantly with other versions or products.