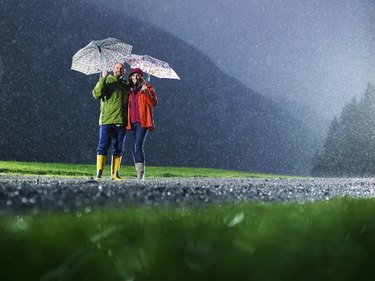 Get the latest weather updates by configuring the stock Weather widget on your Android device. The Android 4.4 operating system includes the AccuWeather app. This app has an associated widget you can place on your home screen. Once you've added the widget to your home screen, take advantage of its built-in Settings panel to configure how the widget looks and operates.
Step 1
Add the Weather widget to your home screen if it's not already there. To do this, tap and hold an empty space on your home screen and tap "Widgets." Swipe through the available widgets, if necessary, until you locate the Weather widget. Tap the "Weather" widget and drag it to the location on your home screen where you want it to appear. It's a fairly large widget, so it needs a bit of space to display properly.
Step 2
Tap the "Tap here to add a city" link and select the location for which you want to monitor the weather. When you select your location, the app automatically retrieves the most up-to-date forecast data and displays it on your home screen.
Step 3
Tap anywhere on the Weather widget to load the AccuWeather app. Here you can see local forecasts for the next seven days.
Step 4
Tap the "Menu" icon in the upper-right corner and tap "Settings" to load the settings screen.
Step 5
Configure your desired settings. Tap the "Unit" field to change the default temperature unit. Tap "Auto refresh" to update how frequently your Android device updates its forecasts. You can also customize whether the widget automatically refreshes on opening, whether it should refresh at all if you're roaming, widget transparency and whether you want to receive notifications about upcoming inclement weather.
Step 6
Tap the "Settings" icon in the upper-left corner to save your changes and return to the main AccuWeather screen.
Tip
If location services are not turned on when you first set up the Weather widget, a dialog appears asking you to turn on location data. Follow the on-screen prompts to enable location services.
If you tap "Tap here to add city" and the widget doesn't find your location automatically, enter your desired location in the "Search" field instead and then tap your location on the list of search results.
If you're unhappy with the degree of customization permitted by the stock Android weather widget, you have other options at your disposal. Several free weather widgets and apps are available for download from the Google Play store. See the Resources section for links to some of the top-rated weather apps and widgets.
Warning
Information in this article applies to devices running the Android 4.4 operating system. It may vary slightly or significantly with other versions or products.