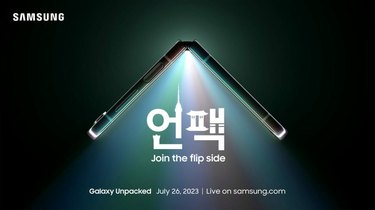 If you're into the idea of having a foldable phone, like Google's Pixel Fold or Samsung's previously released Galaxy Z Flip and Galaxy Z Fold4, there might be another one coming your way.
Samsung announced that the next big Galaxy Unpacked stream event will be held on July 26 at 7 a.m. ET. It's happening so early because it's taking place in South Korea, the location of Samsung's headquarters.
We don't know for sure that there will be a new foldable phone announced, but one pretty specific giveaway is the image of the Galaxy Z flip on the invitation sent out by Samsung.
You can stream the even from bed, if you want, or from wherever you might be on a Wednesday at 7 a.m. The stream will be available on Samsung's YouTube channel.