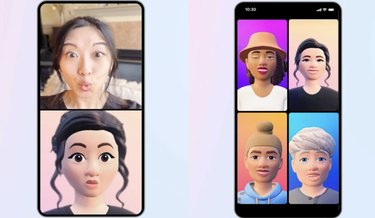 If you want to hop on an Instagram or Messenger video call but aren't camera ready (AKA your hair is a disaster or your eyes are puffy), your Meta avatar can now replace your real face.
A Meta avatar is a virtual, cartoon version of your face that, up until now, could only be used as stickers in the social media platforms. An update to the avatars now allow you to use it as an animated version of yourself in a real-time video call.
The Instagram and Messenger apps will use your phone's camera to replicate your facial expressions as you chat. Avatar video calls work on iOS and Android.
To create your avatar, go to your profile page on Instagram and tap Edit Profile. Tap the avatar icon next to your profile photo and tap Create Avatar. Choose your skin color, hairstyle, face shape, outfit, and then sync your avatar to your profile.