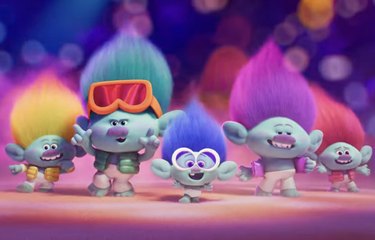 Two exciting things are happening at once: There's a new "Trolls" movie coming out this fall, and it features a new song by NSYNC. Yep, that's right. The band is back together (at least for now) for their first song in over two decades, which is fitting since the movie is called "Trolls Band Together."
"Better Place" is the new song, and fans can hear a clip of it in the brand new "Trolls Band Together" trailer. The song follows in the dance-y footsteps of "Can't Stop the Feeling" and "The Other Side," both super popular songs from the first two "Trolls" movies.
Here's the trailer (and the new song!):
Justin Timberlake, Chris Kirkpatrick, JC Chasez, Joey Fatone, and Lance Bass teased the release of "Better Place" in a clip where they lip-sync to a clip from "Friends," asking each other if they know something.
The big secret was likely the new song, but perhaps the band is signaling to fans that they'll be releasing a new album and will be going on tour. We can dream, right?