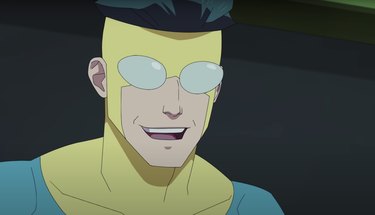 If you need a break from all the family time in November, head over to Amazon Prime Video and Freevee (Amazon's free, ad-supported streaming platform) to catch some classic movies, Prime originals, new series, and more.
The second season of Robert Kirkman's "Invincible," starring Steve Yeun, will premiere next month on Prime Video, as will new reality show "Twin Love," which follows sets of twins as they're divided into two houses and attempt to date each other.
Over on Freevee, you'll get a slew of older movies as well as "Exmas," a new Christmas movie starring Leighton Meester and Robbie Amell who play a formerly engaged couple who find themselves stuck together for the holidays. It's predictable and cute — exactly what a sweet and cheesy Christmas movie should be.
Check out the full lineup below.
New to Amazon Prime Video in November
10 Things I Hate About You (1999)
12 Dates of Christmas (2011)
A Christmas in Vermont (2016)
A Christmas Wedding Tail (2011)
All The President's Men (1976)
Allan Quatermain And The Lost City Of Gold (1987)
Along Came a Spider (2001)
An American In Paris (1951)
Christmas with the Kranks (2004)
Conan O'Brien Can't Stop (2011)
Eight Crazy Nights (2002)
Ghosting: The Spirit Of Christmas (2019)
Heaven Is For Real (2014)
How to Train Your Dragon (2010)
Killing Them Softly (2012)
Love & Other Drugs (2010)
Master And Commander: The Far Side of the World (2003)
Miracle on 34th Street (1947)
Richie Rich's Christmas Wish (1998)
Same Time, Next Christmas (2019)
Surviving Christmas (2004)
That Awkward Moment (2014)
The Eiger Sanction (1975)
The Fast and the Furious (2001)
The Fast & Furious: Tokyo Drift (2006)
The Fault in Our Stars (2014)
The Gospel According to André (2018)
The Horse Soldiers (1959)
The Lost World: Jurassic Park (1997)
The Other Boleyn Girl (2008)
The Perfect Holiday (2007)
The Prince of Egypt (1998)
Thunderbolt and Lightfoot (1974)
Tim & Eric's Billion Dollar Movie (2012)
Veggietales: Christmas Sing-Along Songs! (2020)
Veggietales: It's A Meaningful Life (2010)
Veggietales: Merry Larry and the True Light of Christmas (2013)
Veggietales: Saint Nicholas - A Story of Joyful Giving (2009)
Veggietales: The Best Christmas Gift (2010)
Veggietales: The Little Drummer Boy (2011)
Veggietales: The Star of Christmas (2002)
Veggietales: The Toy That Saved Christmas (1996)
What's Eating Gilbert Grape (1994)
Witness For The Prosecution (1957)
Harina, El Teniente Versus El Cancelador S2 (2023)
American Horror Story S11 (2022)
Smokin' Aces 2: Assassins' Ball (2010)
Amar É Para Os Fortes (Love Is For The Strong) (2023)
New to Freevee in November
A Fistful of Dynamite (1971)
Ernest Saves Christmas (1988)
Guns of the Magnificent Seven (1969)
Kicking & Screaming (2005)
Species: The Awakening (2007)
The Barefoot Contessa (1954)
The Bourne Identity (2002)
The Bourne Supremacy (2004)
The Breakfast Club (1985)
The Hitman's Wife's Bodyguard (2021)
The Hitman's Bodyguard (2017)
The Legend of Frosty the Snowman (2005)
The Madness of King George (1994)
The Magnificent Seven Ride! (1972)
The Purple Rose of Cairo (1985)
Christmas Checklist (2022)