For about a year or so, my son has had the freedom to travel around to visit with the many kids that live in our neighborhood. He has a "curfew" every night, but even with a watch, he seems to have trouble keeping track of the time. He's limited in where he can go, but that means he could be at six different houses at any given time.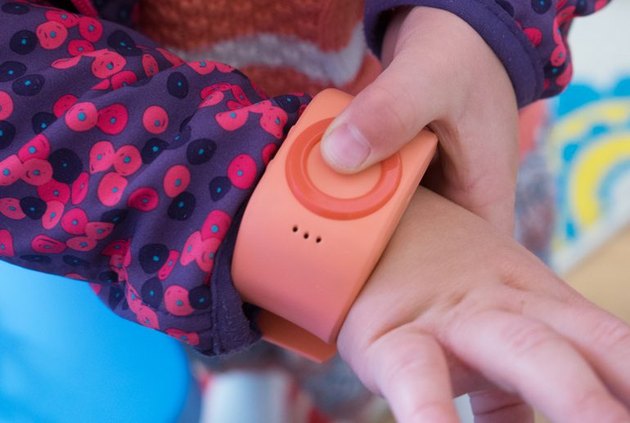 He's 10 now, which I think is still too young for a smartphone. It doesn't help that my husband and I have handed down our older models to him for games, only to have him take one into the shower for music (it died) and get permanently locked out of the other via a password he created (and forgot).
The watch
Tinitell sounded like a perfect solution. This "wrist phone" allows your child to make and take calls, but with limitations. Even better, it includes GPS, so you can track your child's location almost anywhere.
Weighing in at about 2 ounces, the Tinitell looks sort of like a regular watch. It's probably a bit sturdier, since it's water- and dirt-resistant and doesn't have any glass parts. It doesn't actually tell the time, which seems like a missed opportunity. (It would be nice to have an alarm, too.) Maybe the company didn't want to make it too complicated; it has such a minimalist design, it could hardly be simpler.
In fact, the most complicated thing about the Tinitell is picking one of the four color choices (aqua, charcoal, coral, and indigo). Otherwise, the watch has one giant button for making and taking calls and two smaller buttons on the side for volume and toggling between phone numbers.
Getting connected
The other side of the watch has a slot for a SIM card, which works with any provider that offers 2G. I'm not sure how many of those are out there, but Ting is definitely one of them—and an affordable one, too.
When you sign up for Ting service, you pay based on your needs. For this review, I spent a grand total of $9. That will get you a phone number based on your location ($3), 100MB of data ($3), and 100 minutes of phone time ($3). If you opt for no GPS, that brings the cost down. Of course, there are larger plans with more minutes and data as well.
You will also need to download the Tinitell app, which is free for iOS and Android devices. This is where you will manage callers and do all of the tracking.
Calling home (and elsewhere)
One of the great things about the Tinitell is that calling options are limited. My kid would be calling all of his friends and possibly Siberia if he could. He'll talk to anyone, but that's not really how this watch works. Instead, Tinitell limits outgoing calling options to whoever is programmed into the watch through the Tinitell app.
Like the actual watch, the Tinitell app is basic. It has a map, where you can track the Tinitell wearer's movement, a list of contacts that can dial in (and the option to block anyone not on the list), and a peek at the Tinitell's battery life.
There is a bit of customization, which allows you to put in a name and photo for the Tinitell wearer, as well as callers. You'll also enter a voice message that announces each contact. For instance, when I would call my son, he would hear my voice say, "It's mom, pick up," the watch would vibrate, and then music plays. To answer calls, you just push the big button on the front.
That same button also allows you to make calls, but it's limited to the contacts listed in the app. There's no keypad, but there are also no numbers to remember or prank call possibilities. Instead, you push the button and toggle through contacts, hearing the pre-recorded voice messages to know which one is which.
Hello?
For the most part, I loved the Tinitell. We had a few incidents of spotty reception, but we live near the ocean and it's not uncommon to have trouble with cell reception. That was rare, though. And it was nice to have my son be able to check in when he was out and about. It was also really cool to watch him move from the playground towards home through the Tinitell's GPS features.
The sound quality isn't great, but this is not a phone, it's a communication device strapped to a wrist. And frankly, I've heard phones that sound a lot worse. That said, it was always intelligible on both ends. Just make sure to remind your Tinitell kid to speak directly into the watch face.
My only real gripe is the battery life. If you're using phone and GPS features, you can expect to get about a day's worth of use, which means you could have to charge this thing every single day. If you're opting to just use the phone features, you'll get about three days of talk time. Judging by our testing, I would recommend charging it daily. After all, what's the point of having this type of gadget if it doesn't work when you need it?
Peace of mind
Tinitell doesn't have games and apps, so most kids probably won't be begging for one. However, my son was pretty excited to use it and I was excited to be able to call him home (literally) for dinner.
It sells for a respectable $149, but I think it would fly off the shelves if it was $50 cheaper. That said, it's still a pretty great solution for parents who aren't quite ready to add on another smartphone plan.