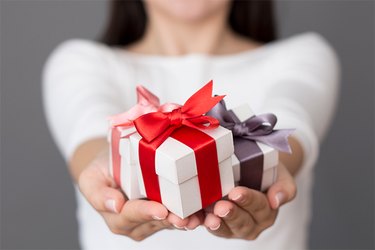 Looking for the perfect Mother's Day gift? You could go for flowers or candy, but let's face it: chances are you've been there, done that. Why not choose a cool gadget that's not only something different, but something that can make Mom's life a whole lot easier? Here are ten suggestions.
A thermostat may not seem like the most exciting Mother's Day gift, but just wait until mom sees how much money she can save with this handy gadget. The $249 Ecobee3 smart thermostat can be controlled directly from the device itself, which features an easy-to-use touchscreen, or from the mobile app or Web dashboard. It works with Ecobee's remote sensors (one is included; additional sensors can be purchased) that monitor temperature and movement in other areas of your house, so it adjust temperature based on where you are, not where your thermostat just happens to be located. One tip, though: help Mom out with the installation, as the wiring can be complicated. Read more about Ecobee3 -- and compare it to similar thermostats at Techwalla.
Ask any mom and she'll tell you she's tired of talking and not having anyone listen to her. So gift her with the $180 Amazon Echo, the wireless smart speaker that will not only listen to her, but will also do what she asks. Those requests can include reading headlines, playing music, reading news headlines or weather forecasts, setting a timer, and more. And Amazon is working on Echo constantly, ensuring that this smart speak just keeps on getting smarter. Sister product review site Techwalla has a lot to say about the Amazon Echo as well.
Flic may not look like much, but this small, wireless button has the power to be extraordinarily useful. It connects to your Android or iOS device and can accomplish various actions when you either click, double click, or hold the button. You can program it to control smart home lights, locate your phone, take a photo, post an item to Facebook, turn on your xBox, place a call, send a message, and more. Once it's programmed, you can mount the dot (which comes with a reusable, double-sided adhesive) in a convenient location and click away. Pricing for a single Flic begins at $34, with packages of multiple devices available. Learn more about Flic over at Techwalla.
Making dinner can be a chore, but it's a chore that gets a little easier with the Wemo-Enabled Crockpot. This $130 slow cooker connects to your home router wirelessly, which allows you to control it from the companion wemo app. Set the cooking time and temperature wirelessly, and check the status when you're on the go. If you're running, you can adjust the time and temperature so your food doesn't end up overcooked and inedible.
Another option for making Mom's life in the kitchen a little easier is the Pantelligent smart pan. This pan features an internal temperature sensor that can talk to the Pantelligent mobile app. That tracks the temperature of the food you're cooking, and lets you know when you need to flip, stir, add ingredients, or adjust the heat. The Pantelligent pan works on gas and electric stoves, and is priced at $199. Intrigued? Check out all the details about Pantelligent at product review site Techwalla.
Smartphones have replaced the need to carry a camera wherever we go. But no matter how good phone cameras are, they're still not the same as using a dedicated camera when you want to capture your very best shots. Unless you add an olloclip, a slick little device that slides over your existing phone's camera lens to capture even better shots. Available lenses include a $100 Active Lens, which has Ultra-Wide and Telephoto lenses, a $70 Macro Pro Lens for detail-oriented shots, and an $80 4-in1 Lens that lets you capture fisheye, macro, and wide-angle photos. Olloclip's products are available for iPhones, iPads, and Samsung Galaxy devices.
Imagine a home where the lights turn on and off automatically when you enter or exit a room. Where your coffee brews on-time without you having to press a button. Where your fan turns on when you walk through the door. You don't have to imagine this world: Zuli's Smartplugs make it a reality. These plugs can turn electrical appliances on and off, and adjust lights to your desired brightness based on either schedule you set or your location. The presence feature allows the lights to adjust based on your location (or, more specifically, the location of your smartphone), and turns them off when you leave a room. So not only do they make life easier, they can help save some cash on your electric bills, too. Individual smartplugs are available for $60 or $160 for the Presence 3-Pack (required to use Zuli's cool presence features).
Kohler Touchless Toilet Flush Kit
Moms spend a lot of time worrying about germs. With Kohler's Touchless Toilet Flush Kit, she'll have far fewer germs to concern herself with – and you can remind her of that when she wants to know why you got her a plumbing accessory for Mother's Day. This $66 kit retrofits to most toilets, and allows them to flush with the wave of a hand. That means fewer germs left on the handle, and fewer germs transferred to your hands. It does not, however, mean that you won't have to wash your hands before leaving the bathroom.
ThinOptics Reading Glasses
The first thing you'll want to tell mom about the $25 ThinOptics Reading glasses is that you don't think she's old. It's just that you noticed she's having trouble reading the super-small print on her smartphone or tablet. That's where ThinOptics can help: these super-slim, lightweight glasses help you read even the tiniest of text. And they come with a case that's small enough to slip in a pocket or attach to a device so they're never left behind.
There you have it: 9 cool gift ideas that will make things a little easier for Mom this year. And if you want to throw in flowers, too, go for it!