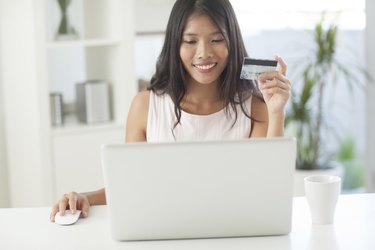 If you have access to an Internet connection, you can buy anything from clothing and groceries to household appliances without leaving your home. As the popularity of online shopping has grown, so has the number of online retailers. There are both benefits and drawbacks, however, to making these online purchases. Understanding these advantages and disadvantages will allow you to make a confident and well-informed decision before your next online shopping expedition.
Convenience
The main reason for the popularity of online shopping is the convenience it provides. A September 2013 study by the Deloitte accountancy firm showed that 47 percent of those polled intended to use the Internet rather than or in addition to brick-and-mortar stores for their holiday shopping. Respondents to the study reported the ability to shop at any time and anywhere as the biggest selling points of online shopping. Another reported attraction of online shopping is the ability to research products and compare prices without physically visiting numerous stores. This allows you to save time and gas money.
Selection
The Internet's many online stores provide you with a vast array of potential purchases. Whereas a brick-and-mortar store may only provide a few options, an online counterpart may offer additional choices of color and design. For example, retail giants Wal-Mart and Target offer additional items that you can only purchase from their website. In addition, you may find a variety of homemade items online that would be unavailable otherwise. For example, the online marketplace Etsy provides a way for you to buy handcrafted goods from around the world.
Price
Savvy shoppers often search for the best price before making a purchase. You may be able to save money by purchasing your item from an auction site, a liquidator, or an out-of-state retailer that is offering the item for less. In addition, many sites don't charge sales tax on out-of-state sales, although this may change eventually. When making an online purchase, make sure to include any shipping fees when figuring out the best price.
Security
One of the biggest concerns surrounding online shopping is the safety of your personal and financial information. In the spring of 2014, hackers successfully gained access to the customer database of auction giant eBay. The database contained personal information, including client names, birthdays, physical addresses, phone numbers, email addresses and encrypted passwords. The theft of this information left customers at risk for phishing schemes, which has the potential to lead to identity theft. In another example, hackers breached the customer databases for Target in 2013. This breach led to the exposure of customer information, including credit and debit card numbers, expiration dates and PIN numbers. Although all retailers carry some risk of a potential security breach, using a reputable retailer that has a secure site may reduce your risk. In addition, pay close attention to any reported breaches and closely monitor the account(s) you use when making an online purchase. Using PayPal, which operates as an intermediary between you and the retailer, may reduce the likelihood of the theft of your financial information. Avoid using public computers or insecure network connections when making online purchases, as doing so may increase your risk.
Accuracy
Because you cannot actually see and touch the item before you buy, what you see online may not be precisely what you get. Occasionally, the item that arrives in the mail falls short of the expectations you had when you made your online purchase. The color may differ from what you saw on the screen or the item may be of a lesser quality than you expected. Use a reputable retailer to reduce the chance of disappointment. In addition, choose a retailer with a return policy that meets your needs in the event you are not satisfied with your purchase.