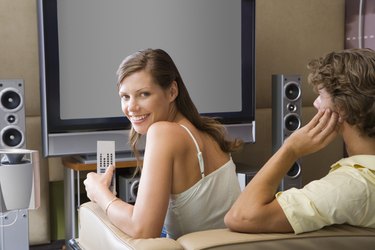 If your high-definition LCD or plasma TV screen becomes cracked, torn or broken, you have only two alternatives: replace the screen or to purchase a new monitor. In some cases, independent TV repair companies are limited to replacing modules in LCD and plasma screens to fix them. While some parts can be replaced by the owner, many broken screens require replacement.
HDTV Screen Replacement
Those interested in replacing a broken HDTV screen should contact the monitor's manufacturer. Popular brands include Samsung, Sony and Panasonic. Set up a service appointment to have the screen repaired or replaced. Be sure to have the model and serial number of the broken monitor handy when you call the company. They might try to walk you through a few troubleshooting techniques first before they set up an appointment.
Warranty
Most TV warranties do not cover cracked or broken television monitor screens, stands and accessories. A defective screen may be covered under a super extended warranty. Contact the store from which you bought the TV to review your warranty coverage or request a copy of your warranty documentation if you lost it. If the TV screen does not work due to malfunctioning parts, the warranty might cover the cost of repairing or replacing the screen.
Cost Consideration
Compare the cost of replacing the HDTV screen with that of purchasing a new TV. Unless the damage is covered by warranty or insurance, the television owner is required to pay for both the screen and the manual labor. This cost might end up being close to or higher than that of buying a new TV. Get a few different estimates for both options if possible.
Other Replacement Parts
HDTV owners may be able to purchase some replacement parts and do some repairs themselves. In some cases HDTV LCDs have a thin piece of protective plastic on top of the delicate screen panel, which can be replaced if the damage has not penetrated to the panel. Contact a customer service agent at the TV company for further information. Other parts that may be replaced include software disks, cables and monitor stands or bases.