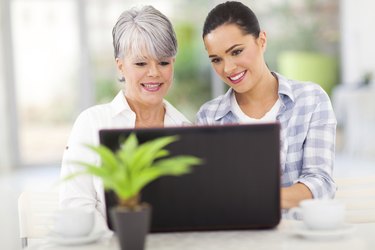 Microsoft's productivity suite of applications, Office, is available in two different versions, Office 2013 and Office 365. The software company's licensing policies differ for each version. If you need to purchase a new version of Office for your home or small business computer, the licensing policies will determine whether or not you can install the suite on more than one computer. All prices are valid as of June 2014.
Office 365 Licensing for Home Users
Office 365 is Microsoft's cloud-based version of the productivity suite. It requires a monthly or annual subscription and includes full installed versions Word, Excel, PowerPoint, Outlook, OneNote, Publisher, and Access for working offline plus online storage. The licensing policy for installing Office 365 varies depending on what type of subscription you purchase. Home users have two subscription options. Designed for individual usage, Office 365 Personal allows you to install the applications on one PC or Mac and one tablet for $6.99 per month. Office 365 Home, the version designed for families, enables you to install the office productivity applications on five PCs or Macs plus five tablets for $9.99 per month. Both personal versions provide access to Office documents saved in the cloud via the Office smartphone app for iOS, Android and Windows Phone devices.
Office 365 University Licensing
Designed for students, Office 365 University, provides discounted access to the productivity suite. Students can install the full versions of Office programs on up to two PCs, Macs or tablets. The university version also provides access to Office documents in the cloud with Office smartphone apps. You must provide proof of your status as a student, faculty or staff of an accredited higher institution in order to purchase Office 365 University. It costs $79.99 for four years.
Office 365 Licensing for Business Users
Microsoft offers three versions of Office 365 for small and midsize businesses. Only two versions provide a license to install full versions of Office productivity applications on PCs or Macs. Office 365 Small Premium allows full installation of Office applications for 25 users, costing $12.50 per month per user. The Office 365 Midsize Business plan allows up to 300 users to download and install the apps at $15 per month per user. For both plans, each user can install the productivity apps on up to five PCs or Macs. If you have more than 300 employees that need access to Office apps, you must purchase Enterprise versions of Office 365.
Office 2013
While Microsoft offers a cloud-based subscription service for Office, you can still purchase a standalone, traditional version of the suite for $219. Individuals who purchase Office Home and Business 2013 can install the software on one computer. If you purchase a new computer, you can transfer the software to the new machine. However, you are limited to one transfer per every 90 days. In addition, you must completely remove the software from the previous computer.