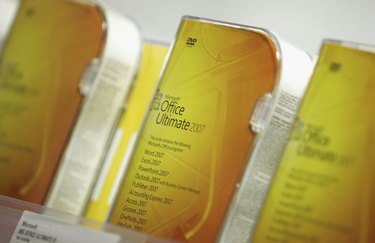 Millions of people rely on Microsoft Office to write a letter with Word, calculate numbers with Excel, or make a presentation with PowerPoint. Because not every user needs every feature, Microsoft licenses different versions of its Office software for different purposes. This allows you to purchase only the software you need. You can also buy a license that will allow you to install and use individual stand-alone Microsoft Office products, such as Word, separately.
Office Home and Student
Microsoft Office Home and Student includes only four programs: Word, Excel, PowerPoint and OneNote. Users who have purchased a license for more than a single computer can install it on no more than three computers in a single household, though they can transfer an installation from one computer to another. Purchasers of Office Home and Student may not use the software for commercial purposes, including non-profit purposes. This version of Office is less expensive than other versions.
Office Home and Business
Microsoft Home and Business includes Word, Excel, PowerPoint, OneNote and Outlook. Per Microsoft, if you purchased a disc, you can install it on "your primary PC and your portable device such as your laptop." You can use Microsoft Home and Business for commercial purposes. It is well suited for the needs of a small or mid-sized business, but it does not include features intended for larger businesses such as SharePoint integration.
Office Professional and Office Professional Plus
Microsoft Office Professional includes Word, Excel, PowerPoint, OneNote, Outlook, Access and Publisher. You can also buy Microsoft Office Professional Plus, which also includes SharePoint Workspace, InfoPath, Office Web Apps and Lync. Microsoft includes this version of Office to allow purchasers to work more efficiently with others in an larger organization. For example, SharePoint Workspace facilitates sharing of information between members of a team. As with its Home and Business license, Microsoft allows you to install Office Professional on both a primary computer and a portable device.
Home Use Program
If your employer makes the necessary arrangements, Microsoft will allow you to download the same Office suite you use at work to your home computer. For example, if your employer purchased the Professional Plus version of Office for you to use at work, you can download that same version to your home computer, rather than the less expensive Home and Student edition. Microsoft will charge a nominal fee for the download.