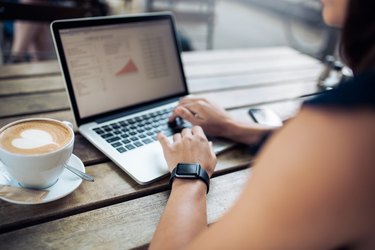 Microsoft OneNote's features -- collaborative work, automatic cloud syncing, write-anywhere note-taking -- make it a go-to program for many users taking notes for class or recording minutes for office meetings. However, not everyone has Microsoft OneNote, so you may find yourself needing to convert a OneNote notebook to another file format before sharing it with a collaborator. OneNote notebooks can be shared with others in a variety of file formats, including Microsoft Word.
Step 1
Open the OneNote file you want to convert, click the "File" menu and click "Export" to bring up the Export screen.
Step 2
Select an option in the "Export Current" section. Selecting "Notebook" will export the entire OneNote file.
Step 3
Select "Word Document" in the "Select Format" section. Alternatively, select "Word 97-2003 Document" to maintain compatibility with older versions of Microsoft Word.
Step 4
Click the "Export" button.
Step 5
Select a location to save the converted OneNote file, enter a name in the "File Name" input box and click the "Save" button.