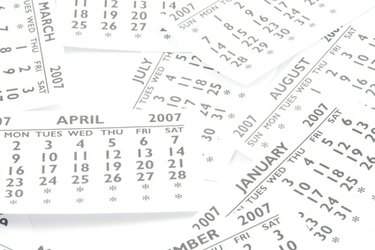 Making calendars in Microsoft Word gives you the ability to type in your daily data and have a nice, crisp, professional-looking calendar at any time. Using MS Word also gives you the ability to create calendars in different formats, so you can choose which format fits your needs most appropriately.
Insert Calendar Into Document
Step 1
Click on "Insert" from a blank, plain document to insert a calendar that does not take up the entire document.
Step 2
Click on "Table" and hover your mouse over "Quick Tables" when the menu pops open. From the options available, select the type of monthly calendar you wish to insert into your document.
Step 3
Edit the calendar so the month, year and days match up with the month you wish to create the calendar for. Enter information into the calendar and save it in an easy-to-find location.
Create MS Word Calendar Document
Step 1
Open Microsoft Word on your computer. Depending on the version of Microsoft Office you have downloaded onto your computer, either click on the "File" menu or the round Microsoft icon in the top right-hand corner of the window.
Step 2
Click on "New" and from the list of available templates on the right, select "Calendars." Select the type of calendar you wish to create, either a monthly calendar from one of the year options like "2011" calendars, an academic year calendar, a multiple year calendar, calendars from years past or other types of calendars including weekly planners, class schedules or birthday and anniversary calendars.
Step 3
Click on "Download" to create a new calendar within a MS Word document. Fill out the calendar with the appropriate daily information and save it in an easy-to-find location.