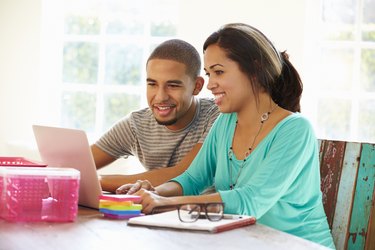 Carrying a calendar with you at all times is a great way to stay organized. A pocket-sized calendar is your best option because it will easily fit in your purse or pocket. While you can buy small-sized calendars, creating your own can save you money. The simplest way to create your own pocket calendar is to download a template from Microsoft Office Online. Templates can be downloaded into Microsoft Word 2007 or Publisher 2007.
Step 1
Go to Microsoft Office Online (see Resources below).
Step 2
Click on "Templates" at the top of the page.
Step 3
Type "pocket calendar" in the "Search Templates" box at the top. Several templates will be listed. Scroll through the templates to find one that you like that is available in the program that you plan to use. Not all pocket-calendar templates are available for the current year, but once you download the template, you can change the dates to match the correct year.
Step 4
Click on a template that you want to download. Then, click "Download." Choose where you want to save the calendar template. Then, the template will open up in Publisher or Word, depending on which type of template that you've chosen.
Step 5
Change the dates in the calendar if necessary. You can do this by simply clicking on the template and entering the correct numbers. Consult another calendar to make sure that everything is entered correctly. Sadly, you most likely will have to change each date manually.
Step 6
Print out the pocket calendar. Most templates print with a few months on a page, so you may have to cut them out to have individual pocket calendars for each month.