PowerPoint doesn't feature a built-in option for inserting calendars into slides. You can, however, search for calendar templates online and then copy the slide containing the month that you want into your presentation.
Step 1
Open a blank presentation in PowerPoint and click New under the File menu. Enter Calendars into the search box and press Enter. Select a calendar from the list of templates that display.
Step 2
Click Create on the pop-up window to download and insert the calendar template into the blank presentation.
Step 3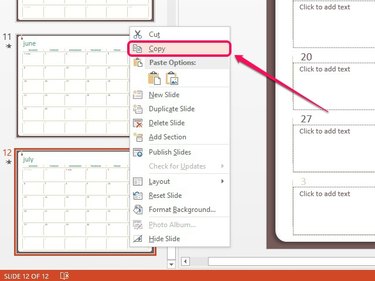 Select the slide that contains the month you want from the left-pane, and then right-click and click Copy.
Step 4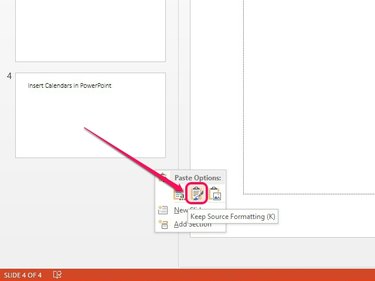 Head over to your presentation, and then right-click a vacant area in the left pane and select the Keep Source Formatting icon under Paste Options to insert the slide to your presentation. This option copies the calendar exactly as it is. Click and drag the slide up or down within the left pane to arrange it within the presentation.