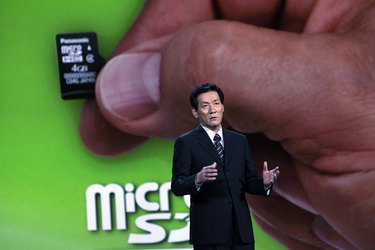 The microSD card is a commonly used memory device in portable electronics such as cellphones. Compatible with all SD-ready devices, the microSD card offers all of the benefits of a regular SD card, but is much smaller (about the size of a dime or a fingernail). Clearing the data from a microSD card is done much like clearing the data on a regular SD card. The only difference is that you will likely need a microSD-to-SD adapter, as most PCs are not built with microSD slots.
Step 1
Power off the device that's using the microSD card and remove it according to the instructions in the device's user manual.
Step 2
Insert the microSD card into the microSD-to-SD converter.
Step 3
Power on your PC and insert the microSD card converter into your computer's SD card slot. If your computer lacks an SD card slot, purchase an SD-to-USB converter and input it in one of your PC's USB ports.
Step 4
Click the "Start" button on the taskbar and click "Computer" (or "My Computer" in older versions of Windows).
Step 5
Locate the SD card in the Computer/My Computer menu. Click it to open it.
Step 6
Press "Ctrl+A" to highlight all the contents on the microSD card and press "Delete." This sends all of the contents to the recycle bin, clearing the card of all its data.
Step 7
Close the window and remove the SD adapter from your PC when finished. You can now put the microSD card back in the device according to the instructions in the device's user manual.
Things You'll Need
PC

microSD-to-SD converter

SD-to-USB converter
Tip
Read the device using the microSD card's user manual to learn about ways to clear data from the card using the device itself.
Warning
Be sure to back up the data on your microSD card before deleting it. Once it's deleted from the card, it's gone forever unless you back it up.