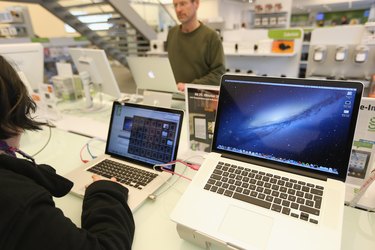 If you are a digital photographer who has recently switched from a Windows-based computer to a Mac, you may be wondering how to use Mac OS to manage your memory cards--in particular, how to erase them. While dragging the files from the memory card to the trash is an option, you may prefer to format your memory cards. Format and erase SD cards using the Disk Utility on a Mac.
Step 1
Connect the memory card reader to your Mac, and insert the SD card. The memory card will be mounted by the operating system and will appear on the desktop as a new storage device. Confirm that anything on the memory card you might want to keep is backed up before continuing; this process will erase the card permanently.
Step 2
Click "Go," then click "Utilities." Double-click "Disk Utility."
Step 3
Click the memory card on the left side of the Disk Utility window.
Step 4
Click the "Erase" tab, then click the drop-down menu next to "Volume Format." Select "MS-DOS File System." This is the equivalent of a FAT or FAT32 file system, which is necessary for the card to be read by your camera.
Step 5
Click "Erase" to complete the process. All existing data on the card will be deleted.