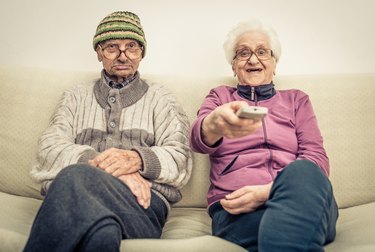 Polaroid HDTVs offer a great viewing experience for enjoying your favorite over-the-air TV shows or watching content on external devices. However, because Polaroid HDTVs offer so much functionality, a number of problems can result. If you are experiencing issues with your Polaroid HDTV, troubleshoot those problems to see if you can work through them on your own.
V-Chip Password
The default password you must enter to set up the V-Chip on your Polaroid HDTV is 0000. However, if you set up a V-Chip password and then forgot it, you can always unlock locked channels using the master V-Chip password: 8202. The master V-Chip password can also be used to access the V-Chip part of the Settings menu and reset your password to something else.
TV Won't Turn On
Replace the safety fuse on the back of the TV. The safety fuse is located to the left of the AC adapter plug-in behind a plastic cover that has an image of a fuse on it. Carefully remove the cover and then carefully remove the fuse. Replace the fuse with a 4 A 250 V – 5 x 20 mm time lag fuse, which is available at most stores that sell fuses. This fuse is intended to limit the damage your TV takes as a result of lightning or other types of power problems.
Picture-in-Picture Won't Display
The picture-in-picture technology only works with devices connected to the HDMI, VGA and standard audio/video inputs. You can make the component input the primary display and display the other sources in the picture-in-picture box, but you cannot have the other sources as the primary display and display one of the component inputs in the picture-in-picture box.
No Picture or Audio, or Distorted Picture or Audio
Check that the source device is turned on and functioning properly if you are having problems displaying the content from an external device. For example, a Blu-ray or DVD player that is making a very fast whirring sound may be encountering problems. Make sure the cable connecting the external device to the Polaroid HDTV is securely connected to the appropriate jacks on each device. Cables connected loosely could result in a bad picture being displayed and bad audio being played; cables not making a connection could result in no video or audio. Adjust the settings on your Polaroid TV and change the aspect ratio. If someone adjusted your settings without you knowing it, the picture may not be displaying as it normally would and the audio may not be playing as it should.