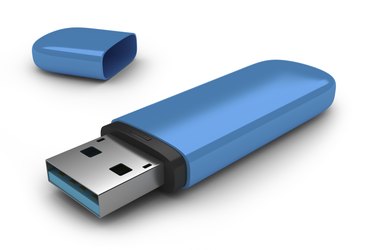 A pen drive, or a USB flash drive, is a portable data-storage device. Pen drives have replaced the floppy drives of old and have become the most popular data-storage devices among consumers. Micro, lightweight and handy, a pen drive can be easily carried from place to place by students, professionals, academicians and independent tech consultants. Currently available pen drives with storage capacities ranging from 8GB and 32GB can be used to store graphics-heavy documents, photos, music files and video clips.
Transfer Files
A pen drive plugged into a USB port can be used as an interfacing device to transfer files, documents and photos to a PC. Similarly, select files can be transferred from a pen drive to any workstation.
Portability
The lightweight and "micro" characteristics of a pen drive make it possible to carry it from place to place.
Backup Storage
With most pen drives now having password encryption features, important family information, medical records and photos can be backed up on them.
Transport Data
Academicians can easily transport large files and lectures on a pen drive and access them anywhere. Independent PC technicians can store utility tools, programs and files on a high-speed 32 GB pen drive and move from site to site.
Promotional Tool
Many companies and businesses are now using pen drives as effective tools to promote sales literature and other marketing-communication content. These handy pen drives emblazoned with corporate logos and visual imagery, and can be easily disseminated at exhibitions, trade shows and conferences.